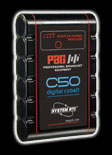 The new PAG C50 battery is claimed to be the first to incorporate new Cobalt technology, which gives considerably increased capacity from a small pack (thanks to cobalt lining around each cell). The 50 watt-hour unit (14.4Volts) is particularly suited to smaller, lighter digital camcorders. It can draw the high currents of a Ni-Cd battery (allowing it to run a camcorder and powerful camera light simultaneously), with extended cycle life, wider operating temperature range, and faster charging. There is also a digital version, compatible with PAG System RTI (run time information) showing run-time remaining predictions in the viewfinder.
The new two-channel PAG Quasar is an compact charger and battery management system, with a 40W camera power supply, which can charge PAG and V-Mount Li-ion batteries, as well as most Ni-Cd and Ni-MH batteries. Its software automatically detects which type of battery is being charged, and gives it the optimum charge to ensure maximum capacity and extended cycle life.
IDX also has two new battery chargers: the EB2 and EB4. The EB2 allows up to 200Wh, taking four Endura E-50 stackable batteries. The larger EB4 allows up to 400Wh, taking up to eight stackable batteries
For users of NP and BT type Ni-Cd batteries, IDX also has the i200 two-channel quick charger (1.8A)/discharger (2.5A). NPs will be ready in an hour, BPs in two-and-a-half hours (£295). The larger four-channel i400 offers quick charge, trickle charge and selective discharge.
Also new is IDX's Endura E80S Li-ion V-mount battery weighing 730g. It gives 82Wh and 14.4V/5.7Ah (for £310). Meanwhile, the NP-1dx (£76) has been improved from 28Wh to 32Wh.
Aspen has two new batteries. The NHP-100 Pro Brick is a Ni-MH battery designed to be used for camera and light with a 100W, 14.4V/7.5Ah capacity. The PB-70 Pro Brick "is aimed at the high-end EFP user," states John Yardley-Turpin, Aspen's European sales director. "It gives a lot of power for a long time. Two batteries should last all day." This Ni-Cd battery is also designed for simultaneous camera and light operation with 70W, 14.4V/5.0Ah capacity. Both batteries are available in Sony V-lock and Aspen's AB mount.
Anton/Bauer's new TITAN 70 charger/mains adapter mounts to any camera equipped with its Gold Mount to deliver 70 watts operating power from any AC mains source. It also doubles as a single position InterActive charger for Anton/Bauer Snap-On Logic Series batteries. The compact, battery-sized unit weighs about 450 grams. Its HyTRON 100 NiMH battery now comes with a three year warranty.
JAN 2002