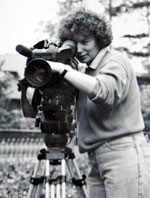 CAREER HISTORY
When I was at school a careers' officer asked me what I wanted to do when I left school. I didn't have a clue. So, she asked me if I had any hobbies. "Oh yes - photography". I loved taking natural history photographs. This was obviously way outside her field of expertise. She told me that that was a lot of competition for jobs in photography and anyway only the very best got the jobs. So, I should forget all about taking pictures for a living and consider something else. For the next three years I took her advice.
I trained to be a radiographer at St Luke's Hospital in Guildford and got my Diploma in Diagnostic Radiography from the College of Radiographers. But, eventually I realised the careers' officer had given me very poor careers advice. So, I wrote to the BBC telling them I wanted to become a camerawoman and shoot natural history documentaries with David Attenborough.
They did give me a job as a camerawoman - but in News and Current Affairs (go, figure!). I spent 13 years at the BBC - 11 as a camerawoman. Thanks to the excellent training they offer - I had a chance to work on a whole range of programmes (not just news) including: Lenny Henry's first comedy series; Playschool ( I got to zoom through the round window); drama; classical music concerts; and my main claim to fame - covering a whole days play from the Pavilion at Lords' cricket ground (the old colonels there were a bit surprised when they realised a woman had infiltrated their men only club - but I did have permission to be there).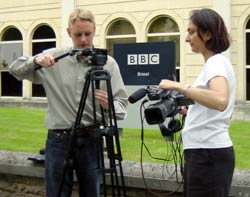 As part of my initiation into PSC (portable single camera work) I spent 6 months as a location sound recordist - my most memorable moment was being in Tiananmen Square when the student protest started.
I went on to deliver studio and location camera training at the BBC's training centre at Wood Norton before joining The BBC's Journalist Training department full time. Once there, I devised and delivered a four day course for journalists on how to operate a Hi-8 hand-held camcorder editing tape to tape. Once digital became popular we changed to the Sony VX1000 and eventually to the Sony PD150 and 170 with editing on Avid.
In 1997 I left the BBC to make better use of my MBA. I have my own company UrbanFox Ltd which I run with my husband David. I now spend most of my time running training courses and trying to keep on top of my email (500 spams a day and counting).
Over the years I have developed my courses to keep up with changes in camera technology, digital editing and the internet.
Video Journalism is now commonplace and it is a sign of the times that over the last two years I have been training more and more newspaper journalist to shoot for the web.
The rise of broadband, youtube and (hopefully) sites like vimeo.com means anyone can shoot their own documentary and around a third of my time is spent training individuals to use their own camera equipment to make short documentaries, low budget movies and web based docs.
Christina Fox