SONY'S NXCAM
Sony's NXCAM is its first professional AVCHD camcorder recording to low-cost solid-state media (something Panasonic has had for a while).
The prototype NXCAM revealed by Sony in December 2009 essentially took a HVR-Z5E and replaced the recording system. Instead of the Z5's HDV tape drive (plus add-on Compact Flash card recorder) there are two Memory Stick slots and an add-on solid-state drive, which record 24Mbps AVCHD. It is intended to be first of a new, low-cost solid-state line-up, with the first cameras shipping sometime in the first half of 2010.
AVCHD (which uses an MPEG-4 AVC/H.264 Long-GoP codec), is widely used in consumer camcorders (almost always at lower bitrates) and is supported natively by some non-linear edit systems (such as Edius, Vegas and Premiere), but not yet by Apple and Avid, where transcoding is necessary, which might diminish its appeal initially.
It should cost about the same as the Z5, and will address one problem professionals have with AVCHD, its AC3 audio codec. Although this will still be included, the NXCAM will also add two-channel linear PCM audio to meet broadcast expectations.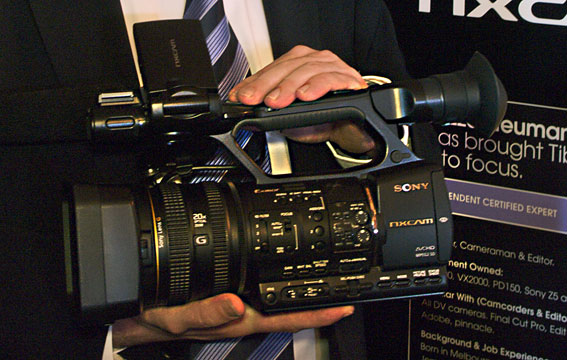 The optional 128GB Flash memory drive will be especially appealing to anyone shooting observational documentaries or to wedding videographers, who need long recording times, as it will store up to 11 hours at maximum quality (the drive should cost less than £1,000). Users will be able to record on to it and the Memory Sticks at the same time. Memory Sticks currently come in sizes up to 32GB (costing less than a quarter of the price of Sony's new lower-priced SxS-1 cards) and the NXCAM will automatically record on the second one once the first is full.
The camera includes a GPS receiver for the first time on a professional Sony camcorder, recording the metadata in the AVCHD stream. This could be useful for future applications, whether offering a map-driven interface to online video, for retrieving archives, or for researchers shooting a recce.
It will also have HD-SDI output for the first time on a compact Sony camcorder (useful for bypassing the built-in encoder for recording at higher bitrates on external recorders, such as Convergent Design's nanoFlash .
STANDARD DEFINITION RETURNS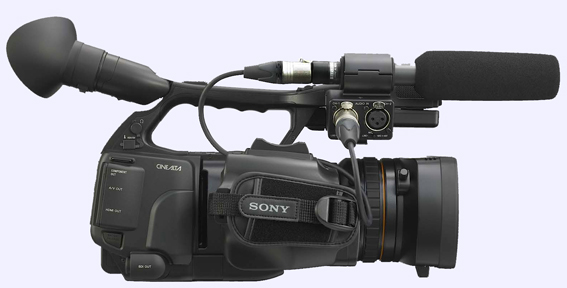 Sony's PMW-EX1R (about £5,000) is a revised version of the EX1, with a number of features requested by users. These include: HDMI output; a higher-resolution viewfinder; an improved LCD screen; one-push Auto Iris; an improved hand grip; one-click S&Q mode (Slow and Quick); an image inversion option (if working with 35mm lens adaptors); and up to 15 second picture cache recording.
The EX1R has also been upgraded by downgrading – having added standard definition to its recording options. This is because "a lot of people on the market were asking for it," particularly in Eastern Europe, the Middle East and Africa, explained Olivier Bovis, Sony's general manager for product marketing.
Indeed, during 2009, Sony launched its first SD-only model in a long time, recording to tape (how quaint). The DSR-PD175P (about £2,500) is a direct replacement for the popular PD170.
"From wedding and event videography, through to corporate TV production and right up to broadcast documentary production and newsgathering, the DSR-PD175P is the perfect tool for standard definition production," claimed Bill Drummond, Senior Product Marketing Manager, Sony Europe. "There is continuing demand for high quality DVCAM production tools in many of our markets and the DSR-PD175P has been developed specifically to respond to these important customers' needs."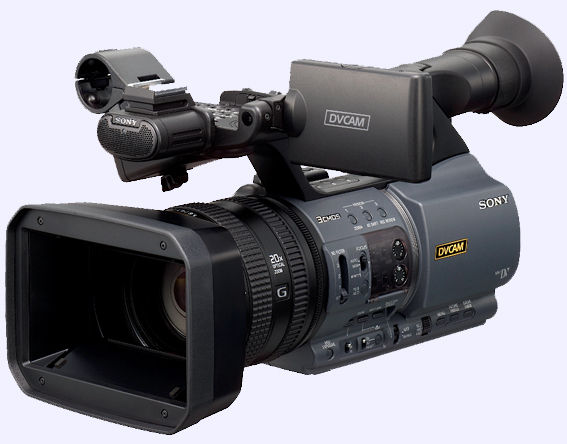 The PD170 was renowned for its low-light capability (1 lux), but its successor isn't quite as effective in the dark, although it isn't far off it at 1.5 lux. It does have the advantage of being 16:9 native and uses three of the same 1/3-inch Exmor ClearVid CMOS sensors found in the Z5.
The camera has a fixed 20x Sony G lens, three ND filters and independent focus, zoom and iris rings. It also has an improved high resolution LCD panel and viewfinder. To aid migration from the PD170, the PD175 also uses L series batteries, removing the need to buy new battery systems (unlike most of Sony's HDV cameras).
It can also record to flash memory, by plugging in the HVR-MRC1K Compact Flash solid state recorder, and adds a 25p progressive scan mode for a filmic look. The 25p image is recorded as an interlaced signal in two fields, for compatibility with editing and monitoring equipment that accept interlaced signals, but maintains the quality of the 25p image.
Its Smooth Slow Record function enables smooth slow-motion playback by capturing images four times faster than normal (200 fields per second). In this mode, quad-speed images are captured for six seconds, stored in the built-in buffer memory, and then recorded to tape (in either DVCAM or DV format) as slow-motion pictures lasting 24 seconds.
Z5 REPLACES Z1
The HVR-Z5E (£3,000 plus – launched late 2008) is Sony's replacement for the very popular HVR-Z1 (the standard for observational documentaries over the previous few years). The Z5 uses the same 1/3-inch ClearVid CMOS sensors as the HVR-Z7E but with a fixed 20x zoom lens.
It addresses all the main concerns about the Z1, with improved low-light sensitivity (1.5Lux – almost comparable with the PD170P).
The wide-angle zoom was developed by Sony, becoming its first G Lens (developed by optical engineers from Minolta, which Sony now owns), and promises less distortion, reduced chromatic aberration less flare, and the fastest zoom in its class.
Although the Z5 is primarily a tape-based model (HDV), it can also be used with add-on solid state or hard-disk recorders. It uses a new version of the Compact Flash recorder that comes with the Z7 and S270.
THE EX FILES
Sony's first budget solid-state camcorder was the XDCAM PMW-EX1 (launched 2007), which used a half-inch Fujinon HD lens plus three 1920x1080 full-resolution CMOS sensors. "This is the first time that we have seen native resolution 1920x1080 in a compact camcorder," claimed European product manager, Bill Drummond.
"It's raised the bar in the small camcorder market in terms of performance and workflow innovation. We got a lot of feedback [from Z1 and other users] and acted on it. We brought in key functions that people have been asking for." For example, its focus gear allows users to operate with end stops (or not) for focus, iris and zoom. The sensor works in low light, following feedback that "the low light performance of HDV camcorders wasn't sufficient for a lot of customers."
It offers variable frame rates (from one to 30p at 1080, or from one to 60p at 720) and can shoot interlaced or progressive, 4:2:0 (4:2:2 output available via HD-SDI). It also boasts many of the picture performance features found on Sony's larger, shoulder-mounted cameras, such as knee, gamma (four customisable cine gammas and four standard), white level, and skin tone detail, with all settings saved to the memory card.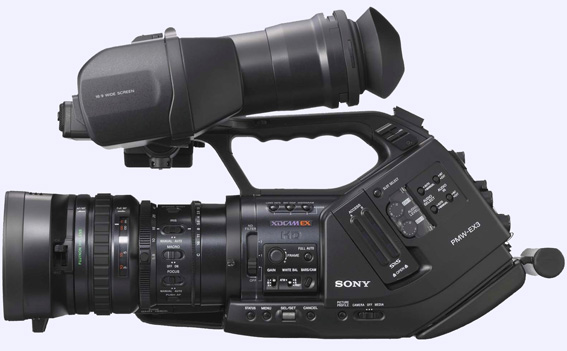 It ushered in a new card format, the SxS PRO ExpressCard (developed with SanDisk) that uses the standard ExpressCard34 slot found on many laptops. The card is small, light, has a high data transfer rate (800Mbps). The camcorder can take two hot-swappable cards at a time, with two 16GB cards offering up to 140 minutes of HD at 25Mbps or at least 100 minutes at its highest 35Mbps variable bit rate. At 25Mbps (HDV mode) it records 1440x1080 (for compatibility with HDV material). If clips span two cards, Sony's clip browser software will automatically put them together again (Mac and Windows). Cards will also save camera data and metadata.
If you want interchangeable lenses, there is the PMW-EX3 (about £6,000 – launched 2008), which also adds genlock, timecode and remote control capability, to make it more usable in a low-cost HD studio. It also has a slightly different shape, which Sony describes as a "semi-shoulder design", and if you have semi shoulders, this should be perfect, otherwise you might need some sort of additional camera support.
HDV UPGRADED
The hand-held HVR-Z7E (about £5,000 - launched late 2007) and shoulder-mounted HVR-S270E (under £7,000 - launched late 2007) HDV camcorders have interchangeable lenses, native progressive recording, increased low-light sensitivity, and the ability to record to tape and solid state simultaneously. They can switch between 1080/25p and 1080/50i. The HVR-Z7E has an HDMI output, while the HVR-S270E is available with HD-SDI or SD-SDI.
"We have spent a long time gauging customer feedback about our existing professional HDV line-up to create a further enhanced and flexible line up," explained Bill Drummond, European product marketing manger, who hopes that the development will extend the appeal of HDV to a wider range of customers, including budget movie production.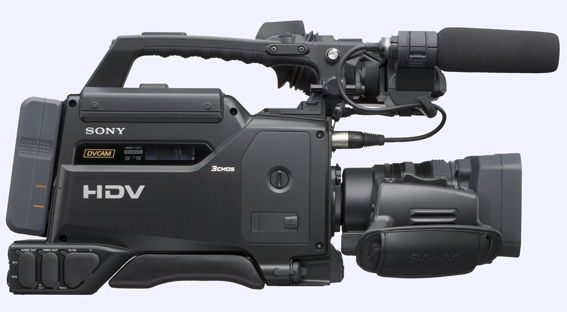 The camcorders have improved versions of Sony's 1/3-inch ClearVid CMOS sensors using new analogue-to-digital conversion techniques and dual noise cancelling, for lower noise, giving them sensitivity of 1.5 lux.
They come with a 12x Carl Zeiss lens for HD video, or optional 8x wide-angle zoom, as well as taking other 1/3-inch lenses (including Sony Digital SLR lenses via an adaptor).
The hybrid recording is via a supplied unit that attaches to the back of the HVR-Z7E or the side of the HVR-S270E. It eliminates the need for cables while recording to a standard CompactFlash memory card.
WIDE PIXELS
Sony's HVR-V1 (under £2,500 – launched late 2006) was developed to fill the gap between its A1 and Z1 1080/50i HDV camcorders, but added the ability to also do native 25p (or 24/30p on the US version), to attract low-budget film makers, although the 25p is recorded as interlaced on tape or disk. It was also the first pro camcorder from Sony to have three CMOS chips.
According to Yuichi Mishima, product branding, Sony Japan, using CMOS offers the advantage of a smearless picture, lower power consumption, and a smaller package than the Z1 (although CMOS typically demonstrates rolling shutter defects, where vertical lines become skewed if you pan the camera – as they read out pictures line by line rather than all at once).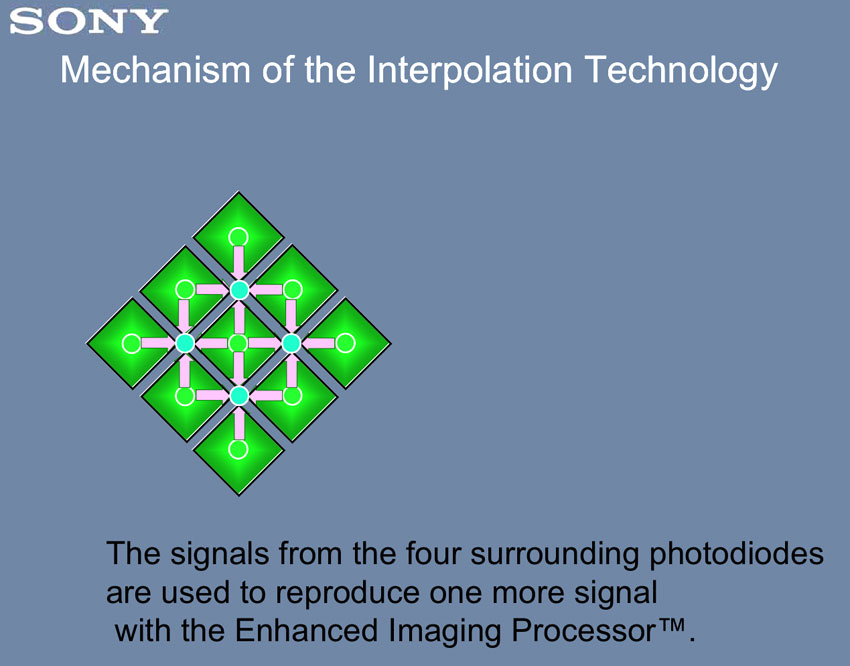 The quarter-inch CMOS sensors have 960x1080 pixels, but use a technology called ClearVid (from Clear and Vivid), which Sony claims doubles the effective horizontal resolution to 1920x1080 (using interpolation). It uses square pixels arranged in a diamond shape (similar to the honeycomb grid used by Fujifilm's Super CCD stills cameras), which allows it to have a smaller pixel pitch (because each row is effectively half the distance across from the one above), and therefore pack more pixels into a smaller chip.
A conventional sensor using a square grid design captures its highest detail at a 45-degree angle to the grid, so ClearVid takes advantage of this to ensure that its highest detail will be seen in the horizontal and vertical planes (which is where it is most noticeable). On the V1, it gives an approximate resolution of 800 lines, compared to about 650 lines on the Z1. It also boasts reasonable low-light performance for its chip size (4 Lux, thanks to using bigger pixels) and increased dynamic range.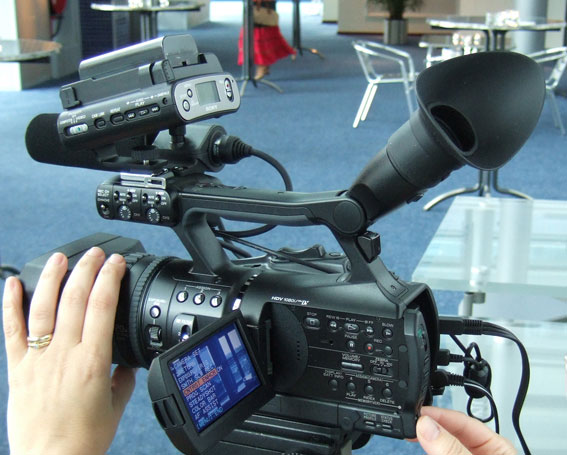 It also improves on the Z1 in its ability to have peaking and zebra at the same time, and it takes a memory stick, so it can save settings for up to 20 camera profiles. It also has an HDMI output for use with an HD TV.
A further feature is "smooth slow recording" with three, six or 12 seconds recording at 240 frames per second on 64MB of built-in memory. However, the three second clip is recorded at 640x360 pixels, while the other two are at lower quality (512x320), which it then up-rezes to DVCAM or HDV.
Sony also introduced a hard disk drive for the V1 (it works with other models): the HVR-DR60 (about £900), recording 4.5 hours of HDV or DVCAM via FireWire. When used with the V1, you can view the hard disk status on the V1's LCD screen. It can record on disk and tape at the same time or be used in relay mode for recording on one then the other.