Glamour With A Hard Edge
The Kamio System ring light is claimed to be the first True Match beauty light for close up shots. Unlike conventional camera lights sitting above the lens, a Kamio wraps around the lens for added glamour. It gives subjects more sparkling eyes, while its gentle glow softens the edges gives more flattering skin tones.
It uses True Match daylight and tungsten Kamio that can be dimmed and filtered without causing interference to the lens. Lightweight enough to mount easily on a hand-held camera, it can act as a matte box to take sunshades, filter trays, an eyebrow, and step-down lens adapters.
Also new is Kino Flo's ParaBeam. It casts the broad soft illumination you'd expect from a fluorescent light, but its special optics mean it also has a narrow beam that casts a shadow. The 60cm ParaBeam 400 can light a four-person news desk from about 5 metres, but will also focus like a hard light on just one presenter after rotating the fixture.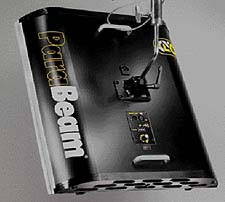 The ParaBeam 400 has four 55-Watt compact True Match lamps (equivalent to a 3K tungsten soft light, using under two amps of power), while the ParaBeam 200 has a pair of 55-Watt lamps. They have DMX and manual dimming, and are only 10cm deep, to take up very little space.
It also has a new quick-release Power Card ballast system, allowing users to replace or upgrade its electronics without any tools.
Nov 2002