CAMERA CRANES
Sachtler's small CamCrane DV for lightweight cameras can carry up to 5.5kg. It can be directly mounted on tripods with 75 mm or 100 mm bowls. Two disks, at the camera base and the camera's movement axis, enable users to maintain a parallel camera position throughout the lift. A lever arm allows the user to adjust the camera tilt during lifting and lowering, to position the camera above or below whatever is being filmed.
The CamCrane DV weighs 5.5kg without counterweights. It can be extended to 320cm, but folds up to 110cm for carrying. For heavier cameras, there is the CamCrane Plus, which carries up to 20kg. It weighs 14kg without counterweights, and has a lift height of more than four meters.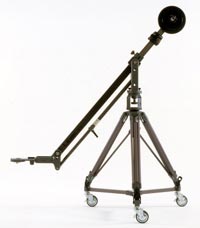 Libec's new lightweight, portable jib arm, the JB-30 is available in three packages: a heavyweight studio/OB package of Jib arm, tripod and dolly, costing £2,400, which can take a load of 30kg at minimum extension or 20kg at maximum extension; a lightweight package for £1,649 which can take 20kg at max extension, or a £1,199 option including the arm, weights with case. The arm has a vertical range of 1725mm (865mm above and 860 below horizontal, at maximum extension).
Libec has also reduced the cost of its lightweight LS-35 tripod system for miniDV cameras, which can take a load up to 8kg, from £549 to £349.
Dutch manufacturer Cambo showed three new boom arms, the V10, V20 and V40. The compact entry-level V10 (695 Euros) is suitable for working in confined spaces. It has a full vertical range of 820mm (300mm above and 520mm below horizontal). The standard V20 arm (759 Euros) has a greater reach at 2,300mm (1,140mm above and 1,190mm below horizontal).
Cambo describes the V40 as a "premier" video boom (1,400 Euros). It has a twin section central arm with a 1,000mm extension arm (159 Euros) which gives it an extended vertical range of 3,330mm (1,800mm above and 1,800mm below horizontal).
The arms all mount into a standard 75mm or 100mm tripod bowl. Maximum load for each arm is 20kg, 18kg and 25kg respectively.
Cambo also launched a new motorised pan and tilt head, the PT90 (3,200 Euros excluding camera controls). It is designed for the V40 and can take a load of up to 5kg.
For a camera support with more muscle, ABC Products/Movie Tech has its Arco Dolly with hydraulic lift (50,000 Euros). Extremely manoeuvrable, it can switch from one steering mode to another mid move. "The heart of the dolly is made of cog wheels like a clock, to reduce maintenance. Plus, pre-tensioned chains, in the wheels, mean they won't stretch. So, no adjustment is necessary," says ABC's sales director, Kenneth Shore. Most Movie Tech accessories will fit the dolly.
Its lightweight dolly, the Willy Go, folds and is easily transported. It can be made into a variety of configurations, again with Movie Tech accessories. "It is suitable for shooting on the beach or anywhere where you can't take a heavy dolly," says Shore. It runs on straight or curved aluminium track and costs 5,000 Euros.
Movie Tech has a new remote head system the Da Vinci due in March, which it claims will be very user friendly, quick to set up, and robust but light.