CAMSEAT
by David Fox
When the Welsh Rugby Union was building its new Millennium Stadium in Cardiff for the 1998 Rugby World Cup, it had a problem with how to position broadcast cameras without taking space from seating or blocking people's views - especially as a traditional camera/tripod set up has been calculated to affect the views of up to 42 spectators.
It turned to engineer, Wayne Morgan, who created the Camseat 180, a low-level camera support with a built-in seat for the operator. Not only did it only take up the space of five seats, but it managed to leave surrounding spectators' views unimpeded. This meant the stadium was able to sell more seats and it could offer broadcasters more camera positions. Twelve Camseats were (permanently) installed in time for the World Cup.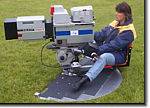 Camseat units have now been used in several other sports, such as soccer (for BSkyB), horse racing (particularly in Ireland - where it has also been taken up for Gaelic Football, Hurling and Australian Rules Football), and snooker (for the BBC). At NAB 1999, it sold its first unit in the US and the Camseat 180 and the lightweight 360 (which folds up to fit in a car boot, and has a carrying handle and wheels), were joined by three new models.
The new 180s is a semi-permanent installation which was used for the first time during the European Cup at Manchester United's Old Trafford ground. "It is very low profile. It is designed to fit on to flat boards like scaffold towers or on top of executive boxes or in the dugout," says Graham Jones, Camseat's sales manager. It uses a flat aluminium plate with holes in it for fixing, whereas the 180 has a pedestal-type fixing on a stand.
There is also a new Balcony Unit, which doesn't take up any spectator seating. It can be fixed to the outside of a balcony, where it doesn't impede any views. It isn't in use yet as it was only shown for the first time at NAB '99.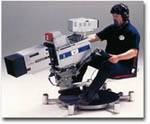 The 360 is primarily used on touch lines or behind goal, and can turn full circle, making it more suitable for horse or car racing, or even for studio use. It is higher than the 180, but is still "reasonably low profile," says Jones.
"It is very comfortable for the cameraman. If you have to sit in these things for four or five hours, it is ideal," he claims.
Also launched at NAB was the Studio Unit, which is similar to the 360 but can only turn through 180 degrees. It is primarily designed for golf coverage, where it allows the camera look down from a scaffold, as it can sit right on the edge, making it easier to follow the ball.
The various Camseats cost from £2,760 and (as of late 1999) Camseat was looking for distributors across Europe.