Its Jog Box gives it a very simple user interface. To record moves in real time, you touch the screen for instant motion control. It can also be attached to a laptop, but this isn't necessary. "You operate the system like a normal camera," he says. A hand wheel controller can be added for remote use, and it will offer wireless interfaces for working greater distances.
It can also change frame rate and direction and do exposure compensation. It will support ramping with all its cameras. Because it is integrated with the lens data system, it is a bit more intelligent than other systems, so if a user attaches the wrong cable to the wrong place, it will realise it and compensate.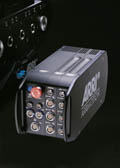 It is scalable, so users can start with the pan and tilt head and lens control system and upgrade it to control other parts of the system, such as a dolly or crane, and can offer control over up to 48 different axes. It can do multi-camera motion control, networking as many cameras as wanted over an IP network using 100Mbps Ethernet. It can be plugged in to a hard disk, giving it huge storage capacity, and can use a flash disk for extra reliability in difficult conditions.
He claims it is totally silent, with a very sturdy head, which is compatible with all Arri cameras. The system was set to be available early in 2002.
Jan 2002