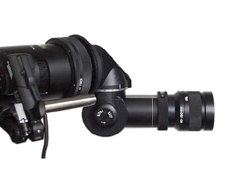 Shown at IBC 2001, the system has its zoom-lens controls at the back (so it has the usual zoom functions), then the T-Rex lens, which spins the image around two axes. Next, another ring allows panoramic pans. The final segment, at the front, also allows roll-overs, but these are slightly off axis, giving a different range to the T-Rex. Combined, these allow really complex roll-overs looking in different directions. "It can do very precise moves around pack shots or models," says Mike Jones, freelance cameraman, Motion Systems Technology. "You could come in through a car sunroof, pan around and come out again."
The motion control system puts operating back in to the hands of the operator. "It's really, really simple to set up," he claims. "It doesn't matter what order you plug it up, it always works."
It can operate in a similar way to a Hot Head. The control wheels can be up to 50 metres away or on the head. It also has a force-sensor pan bar, which drives the servos depending on the pressure.
Moves can be recorded live, which means it can take just seconds to enter, or put in by keyframe. They can then be altered to run at any speed. It can control up to 50 modules, if anyone ever needs that capacity.
More than one person can work on it at a time, so a focus puller can put in their part of the move in real time alongside a cameraman, or moves can be built up module-by-module. Moves can be saved to a laptop for later use. It also uploads and downloads to 3D graphical systems like Maya.
It is very small and lightweight compared to normal motion control. At the moment it doesn't have motion control dolly and track, because it is aimed to fill a gap in the market where full motion control systems can't be justified or afforded. He claims it takes a technician just half an hour to learn to use it, so it doesn't require the cost of a dedicated technician.
It is compatible with a wide range of film cameras and 24p (the only video format which can really be used with motion control). The system can take any of a full range of prime lenses at the front, from very wide to telephoto.
JAN 2002