ON THIS PAGE:
DOLLIES &
PLATFORMS
Griptech
Egripment
Panther
Miller
Camseat

New Dollies and Camera Platforms for 2003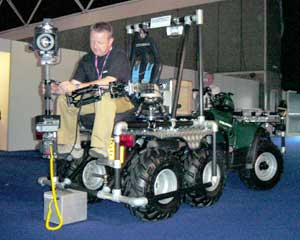 by Christina Fox and David Fox
There's a whole bunch of camera support new for 2003. But one that caught our eye came with six-wheel drive and a gyroscopically-stabilised Steadicam mount. Griptech Hire's latest vehicle can go places other camera cars can't. With a 45mph maximum tracking speed, it is street-legal and gleaming with aluminium. "It has front and rear camera mounts which we've used on the Commonwealth Games, shooting mountain bikes and the Badminton horse trials," says Griptech's Simon Wood (pictured right). It has also been used on horse racing for the BBC. "It's the only vehicle that's ever been allowed on the actual race course to show the horse's point of view. It has a low impact on the ground - as weight on each wheel is minimal." The vehicle with rig, driver and operator can be hired for £1,500 per day.
Everything else does seem a little tame by comparison...
EGRIPMENT
Egripment has introduced a new wheel-less dolly. The Cam Track system is based on a track glider and can reach speeds of 40km/h (25mph), thanks to Teflon bearings, gliding on special aluminium track segments. Because of its low weight and compact design, it can be used for many applications. It can also be installed horizontally, standing or hanging, or vertically, for an elevator effect, or at any other angle.
The system uses the latest version of its MiniShot head, the 30-channel MKII, which includes new features such as broadcast-quality slip ring pack, stainless steel shafts and axles, plus other features which make it much easier to communicate between the camera and remote head functions.
It works with the new 335/02 Control Panel, which can control many new functions on the head, lens and camera, these include: zoom speed, zoom reverse, focus reverse, pan speed, pan reverse, tilt speed, tilt reverse, standby, zoom focus, pan and tilt. It will switch between multiple MiniShot MKIIs, holding multiple Pre-set positions for each head and Camera (pan, tilt, zoom and focus). Users can also program the limit switch for pan and tilt on each head.
PANTHER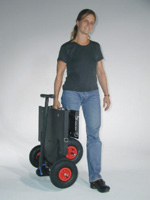 German crane and dolly manufacturer, Panther, has entered the broadcast market for the first time with a new version of its small Husky dolly. This folds together for easy portability, but has enough space for a tripod and spreader.

The 27kg Husky folds in such a way that it can also be used as a cart for the camera case and other bulky equipment. It can be used on ground or track, taking seconds to change from tyres to track wheels. Two people can stand or sit on its stable platform, and it can be used with a tripod or a choice of Bazooka risers, turnstile attachment, seats, etc., from Panther's large range.
MILLER

Miller's new Studio Dolly is the first of a new range of dollies designed for extra strength, stability and durability. Features include: individually-selectable tracking, using Miller's Trak Lok system, a spring-loaded engaging mechanism that lets you fix the direction of one, two or all three wheels; height-adjustable cable guards; a strengthened wheel design; and solid die-cast centre hub. There is also a foot-engagable brake on each wheel, plus larger, sealed roller bearings to ensure stability for static positioning, and the new wheels boast inertia-free startups, solid braking and ultra-smooth fluid-style rolling action.
It is designed for lightweight studio and EFP camera support. At 810mm wide, it can get through a standard doorway, and collapses to 615mm for portability - a carry handle is moulded into its centre bracket.
CAMSEAT
Camseat has made its stable camera base, the Camseat 180, a totally portable unit that is clamped in place rather than being bolted, so that it is quicker to install and to move. The units, which are now in place in half of all UK Premier League football grounds, minimise visibility problems for spectators, by giving a low-level, but comfortable, seating position to cameramen. There is also a portable Camseat 360 model for all-round coverage, as well as various fixed models.
MORE...
CAMERA SUPPORT... If you don't know a jib from a crane start with our beginner's guide to camera support. Then move on to articles on Steadicam alternatives, Arri motion, Easyrig, P+S Technik and Motion Systems Technology. more »
CAMERAS... This section covers our popular camera kit buying guide. Plus, plenty on the new breed of wireless cameras, HD and 24P cameras too. And if you want to make video look like film there's info here to get you started. more »
CAMERA ACCESSORIES... Once you've bought your camera you'll need lenses, matte box, filters, camera bag - the list is endless even if your budget isn't. more »