SOLID BACKING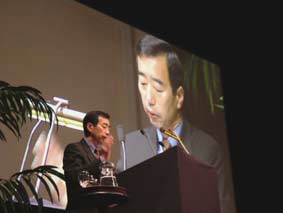 Because it has an IT-based front end, P2 "will deliver major cost savings," claims Yamada. This is why Panasonic is calling it ING (IT News Gathering). Although it uses DV/DVCPRO compression, it uses standard IT components and open interfaces. "ING demonstrates the way that IT technology is transforming the broadcast industry. Video is no longer video, it is data," he states.
Initially, ING comes with either 2GB or 4GB of Secure Digital (SD) memory on a PC card. The P2 (Professional Plug-in) card stores up to 18 minutes of DV or 9 minutes of DVCPRO 50. The five P2 slots in the camera are hot swappable, enabling continuous recording.
Being Flash memory, it retains data without power. Cards are planned storing up to 128GB (holding 144 minutes DVCPRO HD, 285 minutes DVCPRO 50 or 576 minutes DV). These should be available in four to five years, as memory technology doubles capacity about every year, which Panasonic believes will be perfect timing for the widespread adoption of HD in Europe. However, initially P2 cards will be expensive (at least $500 per GB).
"The arrival of solid state is equally significant for news as the arrival of tape [and its takeover from film] was," says Yamada. The P2 camera has rolling record, so is effectively always recording, and because it is data, any Internet cafe is an ingest point.
P2 is fast too, with up to 640Mbps throughput and has low power consumption: about two Watts, compared to 7W for tape or disc and 5W for hard disk.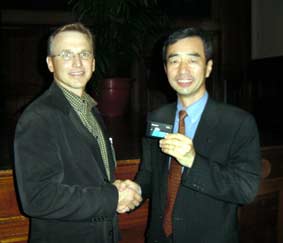 Avid is backing both Professional Disc and P2, but has worked with Panasonic to ensure that solid state works perfectly with its nonlinear editors. "With native support of MXF media, it's instantly understood by Avid's editing solutions," says Avid CEO, David Krall. "So, it just plugs in. It's the magic of industry standards."
"Avid has been working with Panasonic to ensure it generates a 100% compatible MXF file. This means that the computer effectively thinks it is accessing another disk drive," adds Mike Rockwell, Avid's CTO.
"I think this is a really big step towards a seamless industry standard workflow based on MXF. The metadata is a very significant component too, and [P2's] support of AAF through the process," said Krall. Because there is no need for transcoding, user's workflow will be improved.
"The media is fast enough for nonlinear editing, so you basically edit off of it," explained Rockwell. "It's actually a higher throughput than a hard disk drive, and faster seek times, but it's going to be much more expensive to use, so it is useful as a temporary medium for editing, but not for archive."
While optical disc has a seek time of about 100 milliseconds, making it unsuitable for nonlinear editing, on a P2 card it is about half a millisecond, explains Rockwell. It also has about ten times the throughput as optical disc.
Thomson is integrating P2 into its Grass Valley products - initially its M-Series iVDR video server and NewsEdit SC editing system. It will also be used in future acquisition products. Valentin believes that the new format will prove to be more rugged, durable and offer "more efficient workflows for the whole chain of content."
"In servers and news products, we have to be open to various formats. We need to respond to the needs of our customers, but having looked at the technology, we decided that SD could revolutionise the workflow," says Mike Cronk, vp & general manager, servers and digital news production, Thomson Broadcast & Media Solutions.
"Because Panasonic has thought this through from an IT perspective, using open standards, it is very straight forward to integrate," he adds. "It helps us with our product development. It's based on open standards, which makes it easier for us to integrate. It is also a technology we believe will have widespread adoption. Because it's easy to integrate, other companies beyond Thomson Grass Valley will integrate with it too."
Cronk believes that SD will be applicable across the entire workflow, but sees news as its primary target due to its size, ruggedness and being able to access what's on the machine very quickly. "It is very IT friendly, which makes a lot of sense in news. It is just basically digital bits. If you have a long term archive, it can be digital tape or disk or DVD."