Picture Quality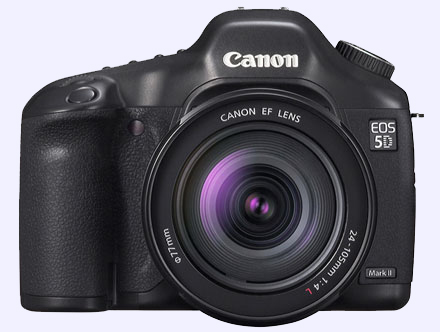 Canon has been the major player in HD DSLRs, especially with its 5D Mark II, which has a full frame 35mm sensor. Initially, it only recorded at 30 frames per second, but firmware upgrades have expanded its video capability and the latest upgrade adds 24fps (actually 23.976) for cinema use, 25fps for European cinema and TV production, and 29.97fps (for US TV compatability). Also new is a histogram display so that you can check your exposure as you are shooting rather than afterwards, shutter priority (Tv) and aperture priority (Av) modes, the ability to use the 5D's exposure modes for movies, and manual audio control complete with a sound level display on the LCD. The audio sampling rate is also imvproved from 44.1kHz (as used on CDs) to 48kHz (the broadcast audio recording standard). Canon say it will be released mid March 2010 and will be available from the Canon site, there is also a nice snowboarding video shot at 25fps (plus a making of movie that shows off the new features).
However, the Canon EOS 7D has had all the frame rates since its introduction in late 2009, and costs less, although it has a smaller sensor (APS-C, about 23x15mm).
It is an impressive stills camera, but while its 18-megapixel CMOS image sensor is great for photography, CMOS is not so suitable for video (although many video cameras have them). One of its problems is skew. This happens when you pan the camera and verticals don't look vertical on recording because the CMOS sensor reads line by line rather than all at once.
Some users may also notice aliasing.
But, in the right hands DSLRs can produce stunning results.

The Canon EOS 7D It is not exactly a light camera (it weighs about 1.39kg with an 18-135mm zoom lens). Even with the image stabilisation in the lens switched on it was tricky to hold still because you couldn't hold it up to your eye (in video mode it only uses the rear LCD) so, it initially went on my Miller tripod and stayed there. For a more mobile, faster reacting, way of working I've generally used it on my Manfrotto monopod (which has three little feet for extra stability and can pan and tilt).
The 7D offers ISO speeds of 100-6,400, expandable to 12,800. My first thoughts were that any image taken at such a high ISO would be very grainy – but the camera's DIGIC 4 processors remove colour and luminance noise to give a cleaner image. Image noise certainly isn't evident at 1,600 ISO, and 3,200 is pretty good too (certainly better than any video camer available at several times the price). However, if you want to do a lot of shooting in very low light conditions, the larger sensors of the 5D MkII and the 1D MkIV will give even better results.
The 7D has the usual optical eyepiece (for stills use only) and a 3-inch LCD with 920,000 dots (which you'll have to use in movie mode as the reflex mirror flips up when the sensor is in use). I'm used to staring at LCD screens on cameras like the Sony HVR-Z1 with only 250,000 dots, so the Canon's screen was a joy to watch. Unfortunately, it is shiny and you do get a lot of reflections that are distracting when trying to shoot. If you are seriously considering buying this camera, or any of the other DSLRs, for video work you should take a look at the Zacuto Z-finder V2. It will keep out the light from the screen, magnify the LCD by 3x and, importantly, act as an extra point of contact with your body, for stability, if you are going hand held. There are alternatives to the Z-finder, but it is the best we've seen so far.
For video the camera uses MPEG4 AVC encoding wrapped up in a .mov file, and records onto Compact Flash cards at up to 45Mbps.
This is not an ideal format to edit with. So, you'll need to consider software to convert it to something more edit friendly. MPEG Streamclip from Squared 5 gets consistently good reviews and is free, and Canon is releasing its own log and capture software for Final Cut Pro.
RECORDING TIMES
In HD mode you can only record about 12 minutes of continuous video (or 4GB) on a memory card, no matter how big the card is. There is only one card slot – so you can't hot swap like a Panasonic P2 camera or Sony EX. Buying a bigger card won't solve the problem, although you can record multiple files per card, the camera will stop recording once the file size reaches 4GB (this is a restriction of the file format). So this is not the perfect camera for doing that 'locked off shot' at a one hour conference.
Recording Times

HD or SD

4GB card

16GB card

Frame rates

1920x1080 HD

12 mins

49mins

24p (23.976fps)
25p (25fps)
30p (29.97fps)

1280x720 HD

12mins

49mins

50p (50fps)
60p (59.94fps)

640x480 SD.

24mins

1h 39mins

50p (50fps)
60p (59.94fps)
Stills cameras have been able to shoot video for some time – although not very well. But now the technology has improved and it is hard to deny that the results can be very good. I recommend you type 'Canon EOS 7D' into the www.vimeo.com website search box so that you can see some incredible results. If you shoot news and documentaries look at Guardian photographer Dan Chung's work on Vimeo and http://www.dslrnewsshooter.com
If you are a Mac user there is a lot of help getting your footage from camera into Final Cut Pro. One very helpful page is on Chris Fenwick's site. Vincent Laforet is also very helpful with advice.
AUDIO
The audio however is a different story. The camera does have an on board microphone, which may come in handy as a guide track but it almost certainly won't be good enough for broadcast, it will also pick up camera handling noise and wind noise.
You really do need to record the audio on a separate recorder. Trawling through the forums it looks like most people buy the Zoom H4n (as we have). It has its own built-in stereo microphones, if all you need is some atmos. But, it also has two XLR sockets and can record at 48kHz, which should keep your editing software happy. With a splitter you can take an output from the Zoom for monitoring and feed the recorded audio in to the camera as a guide track for synching later. The problem is where do you put it? Maybe it might signal the return of the sound recordist.
You can swap info with other Zoom H4n users at the Zoom forum.
If you don't want to be tethered to the recorder. Then you'd better brush the dust off your clapper board as it will once again come in handy to sync sound with vision. Funny how the more technology improves the more we rely on the old ways of working.
RIGS AND TRACKS
The evolution of the video camera has given us a body shape and layout that puts everything you need just where you want it. The iris, gain and white balance can be found without even taking your eye from its fully adjustable viewfinder.
I know many GTC members hate the Sony Z1 type cameras because of (amongst other things) their shape. But these DSLRs are even trickier to hand hold for any length of time. Unless you have the arms of a weight lifter you'll also need some sort of rig to make it feel more like a shoulder-mounted camera. Add in the cost of the viewfinder and your cheap video camera starts to look a little more expensive.
Rigs available include:
But, if your budget is tight, start with a good old fashioned tripod. I used the camera on a week's holiday and to keep the weight down used a Manfrotto 561B monopod.

PEAKING AT MONITORS
A good video camera will have peaking to help you focus. The Canon EOS 7D doesn't have peaking, which I think is essential to give you confidence when focusing with shallow depth of field. One way around this is to use a monitor plugged into the camera's HDMI socket. One that seems to come highly recommended by Vincent Laforet is the Marshall V-LCD70XP-HDMI. Be careful which one you choose - they come with the option of up to nine different battery adapters. The video below shows all the main features.
Calibrating a Broadcast Monitor + New Pro Features from Guy Cochran
There are no zebra stripes either on a 7D, but there is a histogram which takes up about 1/9th of the screen. If you are used to using a shoulder-mounted camera then using a DSLR will require some time to acclimatise.
Certainly, if you intend to use the camera, I recommend you download the Canon EOS 7D manual (and any drivers you may need) and have a play with the camera before the shoot. For example, it took me a while to work out how to manually white balance. It isn't intuitive.
You can also watch simple tutorials on the EOS 7D at Canon's USA site.
TO BUY OR NOT TO BUY?
Why buy one of these cameras?
Lenses, lenses and lenses. The range of lenses you can buy for a DSLR is eye watering, but the prices generally aren't. So, if the director needs a one off special shot in a difficult location this camera could make you the hero of the hour.
I'd recommend you read photographer Doug Klostermann's page on "Why You Shouldn't Buy the Kit Lens".
If one thing stands out, it is the possibility of very shallow depth of field. It seems everyone wants that film look and with 24p and a little help in post – you can have it at a relatively cheap price. The camera body costs around £1,200.
TIMELAPSE
Time lapse on these cameras is stunning. If you are a timelapse newbie, start with Timothy Allen's timelapse starter guide. Take a look at the some great examples of DSLR timelapse by Tom Lowe at TimeScapes.

And if you mix timelapse and HDR (high dynamic range) photography - the results can be beautiful.
If you set the camera to record the largest still image size (5184x3456 pixels) you can import the time lapse stills into your editing software and pan and scan around the video. For a tutorial on how to do this on a Mac, Philip Bloom comes to the rescue.
However, for timelapse you will have to spend about £100 extra on an intervalometer remote control unit to tell the camera when and how often to take each still image.
If money is tight, this camera may be all your low budget production can afford, and some people have shot incredible footage on it. It is not primarily designed to be a video camera, which means almost everything you do with it will be some sort of workaround, but considering the price, it could be worth the effort.
Would I buy one?

I originally had a camera on loan from Canon for a week to write this review for the Guild of Television Cameramen's magazine, Zerb. I genuinely liked the camera - enough to buy it.
--------------------------------------------------
Related posts on our blog:
HD DSLRs: nice pictures, nicer price and Canon cuts cost of HD
© March 2010