Film Look Adaptor
DV camcorders, where the tiny chip sizes mean the problem is worst, can now use 35mm film lenses and obtain exactly the same focal length and depth of field as a 35mm camera, thanks to the new Mini35 Digital adapter from P+S Technik. This already works with the popular Sony PD-150/VX-2000 and Canon XL1 models. Versions for Digital Betacam and HDCAM cameras are also in development.
Film lenses are designed to project a 35mm image, which is huge compared to the size of a video CCD (some seven times than of the one-third inch chips used on the XL1 and PD-150). "If you project it directly on to the CCD, you only use a small fraction of the middle of the 35mm image. You change the angle of the lens. A standard lens becomes a telephoto lens, so you never get the 35mm feeling. With this it stays exactly the same," explains freelance cameraman, Ben Gabel.
"This is a problem with even HD, because it never has the same depth of field as 35mm has, because this is connected to the physical size of the image," he says.
However, the Mini35 Digital gives excellent depth of field. "We do it by projecting the image on to a little screen, exactly the same size as the 35mm negative. Then we lead it through a block of prisms and a second lens on to the CCD," he explains. Although it is simple, no one has done it before.
There are, however, some optical problems. The 35mm screen is made of ground glass, which would add grain to the image, except that P+S Technik rotates the screen at about 800 revolutions per minute, so that it becomes a "very smooth vertical surface," he says.
"It is one of the pains of videography that you want to make it look like film so much. I, as a cameraman, helped to start the project because I couldn't stand the video look any more," he says.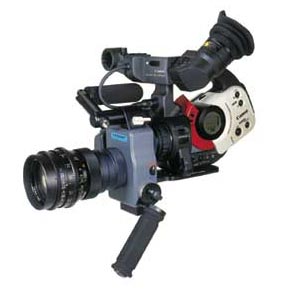 It is not necessary to use expensive cinematic prime lenses, as the system can also use photo mount lenses such as Canon or Nikon as well as Panavision or other film lenses. The adapter also has two adjustable handgrips to facilitate hand-held use.
He believes DV can produce a more film-like image than HD, because "it gives a softer, warmer look than the sharpness of HD."
The XL1 unit (which costs 7,670 Euros) is already available through four rental houses in Germany and some in the US. It is currently hand-built at about ten per month, but P+S Technik hopes to move to mass production by the end of the year, with the 7,160 Euro PD-150 version entering production at the end of October. They hope to have a version for two-third inch CCD cameras by mid-2002.