TRIPODS
Tripods The best known names in tripods are Vinten, Sachtler, Manfrotto (all owned by Vitec) and Miller. Expect to pay between £250 - £1,000 (UK Pounds ) for a tripod and pan/tilt head suitable for lightweight cameras, £1,000 and more for heavier professional cameras.
Although price is always the limiting factor, you can get a lot for your money. Here are the main things to look for:
Weight.
Weight gives stability to your tripod, camera and shots. Carbon Fibre tripods are lightweight and stable but tend to be expensive.
Robustness.
Your tripod will need to be able to take a lot of abuse. Buy the best you can afford.
Strength.
You must also ensure your tripod is strong enough for the job. Always check the weight of your camera and accessories (batteries, mics, waterproof cover, etc) and ensure the tripod has been designed to take that weight and more.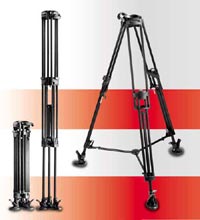 Quick-release levers on the legs.
This is exemplified by Manfrotto's ART legs, which take just a couple of seconds to set up the tripod and mean no more bending down to adjust low level locks. The other companies have their own quick-release technologies, such as Miller's Sprint-Loks.
Quick release hot shoe.
To get the camera on and off the head quickly.
Height.
Most tripods can reach a useful height, but it is also important to check how low it can go.
Removable spreader.
The Y-shaped brace stopping the tripod doing the splits is the spreader. Mid-level spreaders add stability, but for a heavy camera consider a tripod with a ground-level spreader that is detachable/extendible. This allows you to spread the legs even further and get very low angle shots. Legs also have to be adjustable to allow each to be set at a different length to get the camera level - essential for stairwells and uneven terrain.
Spiked feet.
Great for soft ground like sports pitches, gardens and even deep pile carpets. The spikes dig into the ground and keep the tripod stable. Bowl. The head should fit into a bowl shaped socket to allow the head to be levelled using the...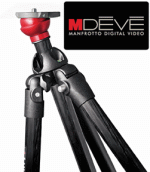 Built-in spirit level.
Essential, otherwise all your shots will be slightly off the vertical/horizontal.
Separate pan and tilt frictions.
Friction adds resistance to give you smooth camera moves. Some heads come with combined pan and tilt frictions. Even where they are separate, most people set them the same, but as they get hot or cold, materials expand or contract differently, so having separate controls makes it easier to adjust.