Chip & Disc
Sony's new DVD camcorders are based on the Blu-ray Professional Disc format, recording 85 minutes of DV or 45 minutes of MPEG-2 on each Euros 30 disc. It records MPEG at 30, 40 or 50Mbps, and users can use MXF, or iLink (FireWire) for DVCAM transfers, which can be up to 3x realtime.
There are two models initially, a DVCAM-only camcorder (PDW-510P) for Euros 19,800 and a switchable DVCAM/MPEG IMX unit (PDW-530/P) for Euros 33,800. Both are based on the MSW-900 camcorder, which Sony believes is the best SD camera head it has made.
The camcorders should survive most conditions. Germany's WDR tested them at both -30 degrees and 50 degrees, and subjected them to intense vibration, without problems. It has a shock absorber and an electronic buffer, as well as a ten-second loop record for continuous recording - even while changing discs. The discs should have a 30-year archive life and survive at least 1000 record/re-record cycles. Sony claims the format will also halve maintenance costs compared to tape.
The cameras come with logging software and save any metadata onto disc. It also records thumbnails (suitable for rough editing), GPS data (if a unit is plugged in) and other simple metadata automatically.
Panasonic's new solid-state recording system is unlikely to arrive before Summer 2004, but will have similar workflow advantages. Called ING (IT News Gathering), it uses DV/DVCPRO compression with standard IT components and open interfaces, including SD (Secure Digital) memory cards, which are widely used in digital stills cameras and other devices.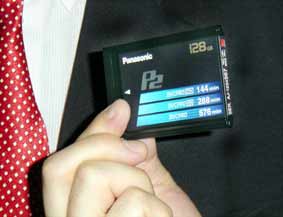 Initially, ING will support 4GB of SD memory on a PC card, called P2 (for Professional Plug-in card), storing 18 minutes of DV or 9 minutes of DVCPRO50. But, there are five P2 slots in the camera - all hot swappable for continuous recording.
Being Flash memory, it retains data without power. Within about five years, cards should be available storing up to 128GB (144 minutes DVCPRO HD, 285 minutes DVCPRO50 or 576 minutes DV). Initially P2 cards will be expensive, but they are fast, with a seek time about half a millisecond and very high throughput (up to 640Mbps), useful for nonlinear editing. "There is no need for digitisation, so it dramatically speeds up the editing process," says Robert Pascher, manager European broadcast marketing. It also has native support of MXF.
Power consumption is low - about two Watts, compared to 7W for tape or optical disc and 5W for hard disk. The P2 camera has rolling record, so is effectively always recording, and because it is data, any Internet cafe is an ingest point.
Ikegami already has a solid state camcorder available, thanks to the flexibility of its Editcam 2 hard-disk camcorder. By replacing the disk with a Flash memory FieldPak, users who need a more robust format have that option. "At the moment it's a bit expensive, but it is a way forward, as Flash gets cheaper, without changing the camera," says Juergen Gottwald, marketing manager, Ikegami Electronics (Europe). Ikegami has a 10GB Flash module now, but it will cost about $10,000, compared to a 20GB hard drive for Euros 500. "But, we expect the price will go down soon as Flash memory is used in so many applications."
The memory pack can record any format Editcam supports, including DVCPRO50 and MPEG IMX/D10.