Pro-ONE: Dual Stream, 3D, For Less
by David Fox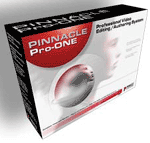 A few years ago, a dual-stream, real-time DV-based editing solution cost at least £10,000. Now a complete system can be yours for under £2,500 using a new Pinnacle Pro-ONE DV card which comes with analogue i/o and a whole host of software for £1,099 including VAT.
The Pro-ONE can handle up to ten effects in real time; is native DV; can do animated graphics and titles; does layering and compositing with keyframes; and has real-time video mapping on 3D objects and can then move them.
Picture-in-picture, slo-mo and speed effects, rotation and image correction (Gamma, contrast, saturation, etc.), are each given two independent channels, so that they can all be carried out at the same time. This means users could create two real-time 3D video-mapped boxes spinning, with colour correction and speed changes, in a single pass. Every effect is fully keyframeable. There is also basic real-time image stabilisation (using technology from Commotion), which works in a similar way to the electronic stabilisation found in some domestic camcorders in that it crops the image and reduces its overall resolution by about 10%.
The Pro-ONE comes on a PCI card, with an analogue audio/video breakout box, three 1394 (FireWire) connectors, two DV hardware codecs for dual stream working, a built-in effects mixer with three channels (which can have five layers if you include animated backgrounds and animated titles), and a DVD-compliant MPEG-2 encoder.
The software bundle includes: Adobe Premiere 6.0 editing, Pinnacle's Hollywood FX-RT (with more than 200 3D multi-layer effects), Alpha Magic (gradient wipes), Pinnacle's own effect transitions and filters, Pinnacle Impression DVD-SE (which can create DVDs with up to ten menus), DV Tools 2.0 (a new version), TitleDeko RT titling, and Media Cleaner EZ.
Premiere has been augmented by Pinnacle so that standard set ups, such as Pal 16:9 or 4:3, can be selected automatically. The Pro-ONE can use Premiere effects, but not in real time as it is not QuickTime-based and has to render them.
It runs on Windows 98SE or ME (Windows 2000 and XP should be available early 2002). It needs at least a 700 MHz PIII PC with 128 MB RAM and a SCSI or Fast IDE 20GB hard drive, but all its features are available at that level.
Users can have up to four inputs at once (including titles, graphics, video streams and/or 3D models), then add speed, motion paths, effects, filters, transparency and 3D mapping with all six features working together to create complex effects. All are immediately available for viewing on the analogue outputs (but DV output requires rendering). Pro-ONE can also import from all the main formats, including graphics formats (such as Tiff, TGA, BMP and JPEG), in real time.
"We want to provide a tool that supports the user's creativity," says Pinnacle Systems product manager, André Klein. "This engine can go beyond simple editing tasks." He claims that in its price range nothing else offers more real-time effects.
"Those people who want to make money with video want a tool which doesn't hinder them doing things very quickly," he says. "They need to get results immediately and have the flexibility to deliver in any formats: analogue, digital tape, DVD and streaming media."
FEB 2002