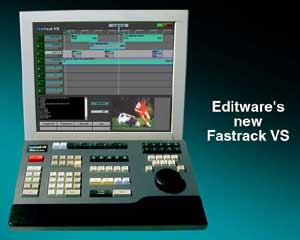 The resulting Fastrack VS is basically the Lift system launched 2000, but enhanced by Editware, which created new device drivers and improved its workflow, "because they understand editing so well," says Robert Malzan, head of software development, Lift. Editware modified the Lift graphical user interface slightly and added many of the specialist editing functions (splits, ripples, slow motion), timeline control and video switcher control.
The hybrid solution is similar to Editware's VPE, but with a graphical user interface and not limited to use with Grass Valley's Profile server.
The full version has an 80 track controller, for up to 80 channels (if you have that many servers). It can access a mix of tape machines and Abekas, Pinnacle or Profile servers. A Louth controller is coming soon, which will allow almost any server to be used. It takes full advantage of whatever each server offers and never re-records anything that is on the server, only recording what is necessary to make best use of storage.
Material doesn't have to be digitised first. "Once you know what you want, only that will be digitised," says Malzan. "You could save a lot of time using this."
He claims it is a very flexible system that can easily be customised to an individual user's way of working. It can be used with a Sony-like or Avid keyboard, mouse, or the traditional Editware way of working.
There is also a lite version, starting from eight tracks with one tape port and using a single make of video server (depending on which server it is used with it can have up to 15 tracks).
Lift is selling it in Europe, Editware elsewhere. Lift's earlier L2 version has been sold in Germany, where RTL is among its users.
NOV 2001