EditPro/M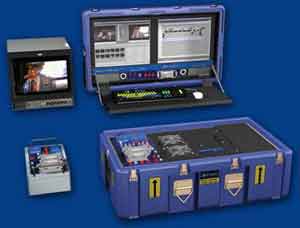 The new EditPro/M from Athens-based Eagle Research is essentially a complete edit suite in a box, the top if which holds two high-resolution LCD screens, the bottom of which can offer half a Terabyte of RAID disk storage.
The custom-built units can essentially house whatever non-linear editing system you choose. The first units have been built around either Matrox or Targa 3000 boards, but could use any Windows-compatible cards and software. Avid Xpress is due on it soon.
The demonstration Matrox system at IBC 2001 had nine 73GB disks, but it could also have a RAID 3 configuration with one disk as a hot spare. It also has a camera return, so users can see the edited footage on the camera.
"Previously the director and editor have had to work in post, but if they can do it on location they get much more feedback and can be more creative and see all the problems as they appear," says its president & CEO, Evangelos Achillopoulus. It also means fewer compromises have to be made.
"If the editor, director and DoP can be in the same place, they can be more creative and more cost effective, because they can be faster, as they don't need to shoot the same scene three or four times to be sure as they can see what works on the spot. This is a different workflow, a different way of thinking."
He maintains it will also make it easier to work with one camera, as they can be sure they have all the angles they need so much more quickly.
Until now, he says it was difficult to have editing systems on location, because a lot of delicate equipment was involved, as well as lots of wiring, and it was time consuming to set up.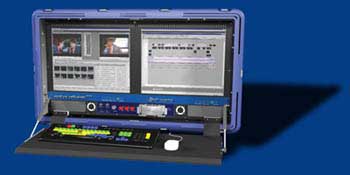 The Eagle system needs just four cables. One to the monitors (up to 10 metres away), one to the director's terminal box (up to 40 metres), one to the camera from the director (a further 20 metres), and one connecting to the director's terminal desk. The camera doesn't need to be connected unless the editor wants to edit while shooting, as they can have a VTR in the car - but with the camera connected, another VTR isn't necessary as 500GB of disk can store up to 20 hours of video.
It has an internal uninterruptible power supply, RFI and electromagnetic interference and lightning protection. Besides RAID 3, there is also a second pair of shock-proof 2.5 inch Notebook PC hard disks for extra back-up of the edit and EDL.
The editor's workstation includes two eight-inch high-resolution TFT LCD screens and a standard keyboard. The editor would work in the back seat of a car (typically an MPV or estate car) as it gives an isolated environment, so the audio can be heard properly, and it can be air conditioned.
The editing system, which weighs 59kg, can also be removed from the car and used as a fly-away kit, for installation in a rented car or hotel room. The weight of the multicore cables also needs to be taken into account. "It is extremely fast to deploy," he claims, taking less than ten minutes.
It promises a four-camera version during 2002 with independent capture while still editing. It is also developing a news version, and can use the Live Tools (or other) digital wireless camera transmission system for working without cables. He also sees the system being bought by post houses who want the flexibility to offer location editing without having to compromise on system quality.
The editing system alone costs from 60,000 Euros, including Discreet edit, DigiSuite LE and 250GB storage (80,000 Euros for a 500GB system). A full production kit with 500GB costs 130,000 Euros. It will also offer a fibre optic option, which will reach up to 300 metres.