ON THIS PAGE:
Sample two day timetable:
Day one
Day two
---
To Book a Course
Tel: 020 8621 3649
(London, UK)
---
Other courses on offer:
One-to-one camera
training courses
Tailor made in-company
training for your staff
Three day - learn to
shoot and edit
These are the most
popular cameras.
But, I can also do other
cameras on request.
Canon XF-300 and XF-305

Canon XF-100 and XF-105

Canon C100, C300 and C500
Sony FS5

Sony A7S and Sony A7R
JVC GY-HM650 and GY-HM600
Sony PMW200, PMW150 and PMW100
Panasonic HPX-250
Canon XA10

XA20 and XA25

Sony EX1, EX1R and EX3
Sony Z5 and Z7
Panasonic AF101 (AF100)
Canon EOS 5D Mkii, EOS 5D Mkiii, 7D
, 550D and 60D
Zoom H4n
Sony FX1 and Z1
Sony A1
PD150, PD170,
Sony VX 2000,
PD100, PDX10
Sony DSR 500, DSR 570
Canon XHA1
Canon XL1 and XL1s
Canon XL2
Panasonic HDC HS700,
TM700 and SD700
Panasonic DVX 100
Panasonic DVX100A
VIDEO CAMERA AND AUDIO COURSES -
EXAMPLE TWO DAY GROUP COURSES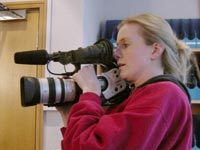 The course below is a sample two day video camera and audio training course. This is to give you some idea of the topics I could cover given two days.
INTRO
To be able to shoot a story I think you need to know how to shoot three basic elements: GVs (general views - the pretty pictures); sequences; and interviews or vox pops. So, most of my two-day courses are based around those elements. You also need to know how to focus, white balance and set exposure. Of course you need good audio too - so I cover the main types of microphones available, which ones to use and when, plugging in and setting levels.

Then I add in exercises that meet your specific needs based upon your current abilities, the kit you will be using and the type of projects you'll be working on. Whether that's shooting for the web, observational docs, viral marketing campaigns, music or drama.

You can see a full list of the core subjects I cover or am regularly asked about on courses.

I also believe practice makes perfect - so all courses need plenty of hands-on practical sessions. You will be operating a camera in every session from practising how to manually white balance to setting up the camera and mics for an interview.
"Hi Christina
Just wanted to say thanks again for last week - the training was excellent - just what I was looking for… and the catering was spot on too!"
Jon C., Ten Horizon
'Just wanted to thank you for giving me such a full and useful two days. Filming at the weekend, I was constantly reminded of your advice and suggestions and, most importantly, I was aware of the confidence I have gained. The filming had its challenges (particularly the tripod) but I am happy with what I got. I am now keen to solidify this new knowledge and intend to film more. Thank you for getting me started."
Victoria S.
"Fantastic all round. Christina was great - very patient with us and happy to answer stupid questions. Content was very useful. I just wish I could have done the week long course.
O. B., Reporter, CMPi
"Perfect length, I enjoyed having practical sessions where we tested the techniques we had learnt. Really good content tailored to our market. Christina is a very good tutor. She's good at tailoring the class to beginners and is very knowledgable.
Charlotte W., Web editor, TTG
"Great course, well taught. Christina has fantastic enthusiasm and great patience with her students.
Fantastic. I loved every minute. I can't wait to start practicing my new skills.
Iain O. Web editor, CMPi
"Actually the best course I have done! Superb teacher - delivered with wit and expertise.
Neil S., Reporter
"Many thanks for the two day course that you delivered to myself and other members of the Kent Messenger Group last Thursday and Friday. Well designed and easy to follow tuition made for a very interesting two days.

This was an excellent course, from which I learnt a great deal and now looking forward to the editing side of it all.
Paul D., Senior Photographer, KM
"Very helpful. Learned lots. Should have done it years ago. I now feel immeasurably more confident."
Seth R.
"Very good. Learnt an awful lot. Everything was well explained and Christina made sure we were taught at a pace that everyone was comfortable with."
Sally W. BBC
"The most useful was the advice on filming/composing shots. Selecting correct aperture/white balance etc . i.e. all the technical stuff.
Ideas about constructing sequences were also useful - not only for our own camerawork but in working with crews in the future."
Giles L.
"Informative in an easy to understand way. Not bogged down by technical jargon."
Mark Z.
SAMPLE 2-DAY CAMERA TRAINING COURSE
DAY ONE
GETTING STARTED
The basics - from switching on to recording
Batteries
Media and work flow
HD, H.264, AVCHD, MXF, ---16:9, 1920X1080, 1280X720, 50Mbps, 35Mbps, 24p, 25p, 50i what the numbers and letters mean and why you need to choose carefully before you start shooting.
Menus - setting up the camera.

THE TRIPOD
Making best use of the three legged beast.

FOCUS
Auto - when it does and does not work
Manual focus
Push auto, Peaking and expanded focus - how the camera can help you focus acurately.


OUT AND ABOUT WITH THE CAMERA - EXERCISE
Shooting good GVs (general views)
Using the rule of thirds and dingleberry
Use the 10-second rule
Get hands on with the camera and practice manual focusing
Get confident with the camera and tripod.
Discipline yourself to only get useful shots and not to hosepipe.

WHITE BALANCE
Auto and Manual white balance
Tungsten, Daylight, Fluorescent lights
Moving from one source of light to another.
SHOOTING SEQUENCES
Basic Building blocks of shooting a sequence
Edit Points
Crossing the line.

SHOOTING SEQUENCES EXERCISE
Shooting a simple sequence in which you can direct the action.
To Book a Course for a group see our group training page
or you can book a one-to-one course
WHICH CAMERA
Canon XF300 and XF305
Canon XF100 and XF105
Canon C100, C300 and C500
Sony FS5

Sony A7S and Sony A7R
JVC GY-HM650 and GY-HM600 (BBC has bought 500 of these for Newsgathering)
Sony PMW-200, PMW-150 and PMW-100
Sony HVR-Z5 and Z7
The Sony EX1, EX1R and EX3
The older HDV cameras: Sony Z1 and FX1
Canon XA10, XA20 and XA25
Panasonic HPX250
Panasonic AF101 (AF100)
Canon EOS 5D MkII, EOS 5D MkIII, 7D, 550D and 60D
Zoom H4n
Panasonic HDC HS700, TM700 and SD700 and 900 series
Sony VX2000, PD150, PD170, PD100, PDX10
Sony DSR 450, DSR500, DSR 570 and DXC D30
Canon XHA1
Canon XL1, XL1s and XL2
Panasonic DVX100
I can also do other cameras on request.
We also do audio training (personal mics, gun mics, radio mics, etc)
Editing on Adobe Premier Elements 11 and Final Cut Pro X.
These are the most popular cameras. But, I can also do other cameras on request.