ON THIS PAGE :

One day or two?
Dates and Venue
Booking
Costs
Which camera?
Full support
Client list

---
To Book a Course
Tel: 020 8621 3649
(London, UK)
---
Other courses on offer:
One-to-one camera
training courses
Three day - learn to
shoot and edit
These are the most
popular cameras.
But, I can also do other
cameras on request.
Canon C100, C300 and C500
Canon XF-300 and XF-305
Canon XF-100 and XF-105
Sony FS5

Sony A7S and Sony A7R
JVC GY-HM650 and GY-HM600
Sony PMW200, PMW150 and PMW100
Panasonic HPX-250
Canon XA10XA20 and XA25
Sony EX1, EX1R and EX3
Sony Z5 and Z7
Panasonic AF101 (AF100)
Canon EOS 5D Mkii, EOS 5D Mkiii, 7D, 550D and 60D
Zoom H4n
Sony FX1 and Z1
Sony A1
PD150, PD170,
Sony VX 2000,
PD100, PDX10
Sony DSR 500, DSR 570
Canon XHA1
Canon XL1 and XL1s
Canon XL2
Panasonic HDC HS700,
TM700 and SD700
Panasonic DVX 100
Panasonic DVX100A
VIDEO CAMERA TRAINING FOR GROUPS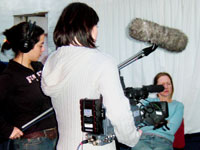 Do you have a small number (or large group) of people that need camera training?
Bespoke courses ensure that your staff get exactly the training they need and can be very cost effective. For example, to train a group of four people (on your own equipment) could cost from only £137.50 per person per day.
Don't want to be trained in a group? Take a look at our one-to-one training info.
"Hi Christina,
Thanks for running the training courses last week, the feedback has been excellent. I will be in touch soon to set up more of the same."
Ben B., ITV.COM
"The DV Camera course I requested for a team of six journalists resulted in six highly skilled camera operators, now with a real thirst for television pictures. Each person took it in turn to thank me for placing them in the training group as not only had they learnt new skills, they had really enjoyed the experience.
"I would highly recommend Christina Fox's fresh approach to DV Camera training as she seems to easily explain, in laymen's terms, what is in fact quite a complex operation."
Stuart M. BBC
I think everyone really enjoyed themselves and you did a great job.

I also think we will certainly be back for more training in a few months once we have worked out where we need to build up more knowledge.

Many thanks for a very professional service."
Dominic C., Steelhenge
"Thanks so much for what you taught us – I found it all very interesting and I am hoping to turn my passion into something to be proud of one day.

All the best, and will let you know when I've done another 'solo' ."
Iain O,. CMPi
"Also just to let you know that the staff were very impressed with the 2 days session and we hope to hold more training days in the coming months for more of our staff so I will be in touch regarding that. "
Elaine W., MNE
"Really enjoyed the two days; great pace, informative but also practical. No waffle and very friendly. Great stuff."
P.B. Sony Computer Games
"Excellent - but very demanding. The fact we were able to go out and put things into practice after each segment was very helpful. This course was intense but a very rewarding experience."
G. L. Sports reporter, BBC.
"Christina has been absolutely brilliant and very patient.
Thank you so much! You've been a star."
Lara R. MTV.

"A good balance between theory and practical. Good number of people in the group. Came away feeling I had learnt a lot and thoroughly enjoyed the course. Would recommend it to people in the same situation as me."
Charlotte B. Assistant Producer
"Very well thought out and organised. The instructors were very helpful and the course was scheduled in such a way that we managed to cover everything and still have time for Q&A."
L.V. Production Manager
"The order of the course was good. I understood everything as we went along. I knew nothing about cameras, so I found everything from how light affects a shot through to composition very interesting. I wouldn't drop anything, it was all essential."
Julie G. Broadcast Journalist, BBC
DATES
If you are interested in booking a training session give me a call on 020 8621 3649 and we can check diaries for possible dates.
VENUE
I am based in West London (UK), but am happy to deliver training at your premises.
Please note: if I travel to you there may be extra costs.
For example, if you are based outside of London, I may have to charge for travel time, mileage, hotel and food. [However, this may still be more economical than sending all your staff to me.]
BOOKING A COURSE...
If you've never organised training before, or if this isn't a subject you're familiar with, it is probably best to give me a call first on 020 8621 3649 (I'm based in London)
I'll need to know...
What help you need... camera operation, microphones, lighting, editing?
What cameras you will be using.
What type of shoots will the course participants be working on... observational documentaries, shooting news, operating the "B roll" camera on a bigger shoot, interviews for corporate videos, etc.
... The more you can tell me, the better I can help you.
Then I'll put together a training course, including practice sessions, pitched at the right level based on the information you've given me.
WHICH VIDEO CAMERA

These are the most popular cameras. But, I can also do other cameras on request.