ON THIS PAGE:
Sample two day timetable:
Example one
Example two
---
To Book a Course
Tel: 020 8621 3649
(London, UK)
---
Other courses on offer:
One-to-one camera
training courses
Tailor made in-company
training for your staff
Three day - learn to
shoot and edit
These are the most
popular cameras.
But, I can also do other
cameras on request.
Canon XF-300 and XF-305

Canon XF-100 and XF-105

Canon C100, C300 and C500
Sony FS5

Sony A7S and Sony A7R
JVC GY-HM650 and GY-HM600
Sony PMW200, PMW150 and PMW100
Panasonic HPX-250
Canon XA10

XA20 and XA25

Sony EX1, EX1R and EX3
Sony Z5 and Z7
Panasonic AF101 (AF100)
Canon EOS 5D Mkii, EOS 5D Mkiii, 7D, 550D and 60D
Zoom H4n
Sony FX1 and Z1
Sony A1
PD150, PD170,
Sony VX 2000,
PD100, PDX10
Sony DSR 500, DSR 570
Canon XHA1
Canon XL1 and XL1s
Canon XL2
Panasonic HDC HS700,
TM700 and SD700
Panasonic DVX 100
Panasonic DVX100A
CAMERA AND AUDIO COURSE FOR A GROUP OF PEOPLE -
EXAMPLE ONE DAY GROUP COURSES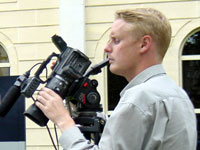 Below is a sampe one day course for a group of (around 4-6) people.
Do your staff need training on how to shoot interviews and vox pops, lighting with a pro kit or available light. Maybe they're confindent with a Z1, but need help moving up to a bigger camera like the BBC HD approved Canon XF300 and XF305,JVC HY GM650 or Sony's PMW200.
PLEASE NOTE: One day is probably fine for people who already have some experience - but perhaps have never had any formal training.
For beginners I highly recommend a two day course - or the three day shoot and edit course (if they need to learn editing too).
Most of my courses are made up from a core of subjects such as focus, white balance, exposure and sound. Then I'll add in exercises that meet their specific needs based upon the their current abilities, the kit they will be using and the type of projects they'll be working on.
I usually recommend a group of about 4-6 people. Because the larger the group, the longer it takes to do practical exercises and review them.
Find out more about booking a one-to-one course or other group training sessions.
If you contact me I'll put together a course that is just right for you.
That said, I am often asked to explain what I can do in a day... So here are some examples below. They are just suggestions to show what can be done... your needs may differ and I can put together something different for you and your staff.
---
---
EXAMPLE 1.
BEGINNER'S INTRODUCTION TO CAMERA AND AUDIO
This first example is pretty much all about the technology. It is useful for beginners who will be shooting B Roll or taster tapes.
GETTING STARTED
The tripod
Batteries, tapes or memory cards (for tapeless cameras)
Basic menus to get started
HD, HDV, H.264, AVCHD, MXF, DVCAM and DV---16:9, 1920X1080, 1280X720, 50Mbps, 35Mbps, 24p, 25p, 50i what the numbers and letters mean and why you need to choose carefully before you start shooting.
PICTURE QUALITY
Manual v auto focus
Hyperfocal distance
Working with Auto exposure
Contrast handling - or why you get silhouettes when people sit in front of bright windows.

MICROPHONES
Microphones (omni, cardioid and hypercardioid).
The right mic for the right location
The on board mic (and its limitations)
Phantom power
Getting the levels right
Microphone technique.

INTERVIEWS
Crossing the line
---
---
EXAMPLE 2.
CAMERA CONVERSION COURSE
This type of day is for anyone who is experienced with one camera (perhaps the Canon EOS 7D or 5D) but, wants to learn how to use a different camera such as the Sony PMW200, Canon XF300/305 or C300
WHAT'S CHANGED?
A run through of the differences and similarities....
Focus
White balance
F No and depth of field
ND filters
Gain
Hyperfocal distance
Plus a question and answer session - covering any problems they've previously experienced and need help with.
If the new camera will have interchangeable lenses we'll need to cover...
What is 'Back Focus' and why does it go wrong
Checking the back focus
Correcting it if is is out
Changing lenses.
We'll probably need to have a good rummage in the menus too.
"Dear Christina, Many thanks for the excellent training day last Friday. It's difficult to remember a more rewarding day in terms of learning and enjoyment, and I am really looking forward to putting all of the skills acquired into practice. No doubt I will have questions for you eventually, so let's keep in touch."
Dr Andrew P., Natural History Museum
"A skill expertly explained and demystified."
Peter L.
"Thanks Christina! Wonderful training on my new Z1, easily explained, and great fun. The two day course was well organised, thorough and has helped me enormously. I would recommend you to anyone."
Stephen C.

Just wanted to say thanks for a top quality training day. Having the whole day focused on my needs was excellent (and a rare treat these days!). I thought the course was superb value for money. Everything was covered in just the right amount of detail. Instructions were clear without being in any way patronising and I must say how nice it is to be trained by a female - felt encouraging in an industry so male dominated. I would recomend your training to others as it has renewed my intrest in cameras - instead of feeling put off by all the technicalities. I now feel the freedom to be more creative and enoy it. Cheers Yvonne H.
"The one day one-on-one training course I had with Urban Fox was very useful. The course was tailor made to meet my requirements and the trainer, Christina Fox is extremely friendly and helpful.
The course also has the added benefit of Christina being happy to answer any DV queries after the course ends. We covered a lot of ground in one day and I now feel a lot more confident about shooting on DV."
Lucy B.
"I really enjoyed the course - you coverered all the key areas of the camera and yet spent enough time on each. I found the practical sessions the most useful as it gave us the opportunity to apply all the theory we'd learnt. Thanks!"
Ceilia W. Endemol
"The instructions were clear and easy to understand. Nothing was a problem for the trainer. She has inspired me to continue what I've learnt and go on to learn more."
Anne S.
Excellent. very informative and interesting. At first I wondered how I was going to remember everything - but it's all falling into place.
Audrey O.
"Very good - covered all the areas I needed to learn about."
Emma R.
WHICH CAMERA
We run a variety of camera training courses on a range of video cameras including:
Canon XF300 and XF305
Canon XF100 and XF105
Canon C100, C300 and C500
Sony FS5

Sony A7S and Sony A7R
JVC GY-HM650 and GY-HM600 (BBC has bought 500 of these for Newsgathering)
Sony PMW-200, PMW-150 and PMW-100
Sony HVR-Z5 and Z7
The Sony EX1, EX1R and EX3
The older HDV cameras: Sony Z1 and FX1
Canon XA10, XA20 and XA25
Panasonic HPX250
Panasonic AF101 (AF100)
Canon EOS 5D MkII, EOS 5D MkIII, 7D, 550D and 60D
Zoom H4n
Panasonic HDC HS700, TM700 and SD700 and 900 series
Sony VX2000, PD150, PD170, PD100, PDX10
Sony DSR 450, DSR500, DSR 570 and DXC D30
Canon XHA1
Canon XL1, XL1s and XL2
Panasonic DVX100
I can also do other cameras on request.
We also do audio training (personal mics, gun mics, radio mics, etc)
Editing on Adobe Premier Elements 11 and Final Cut Pro X.
These are the most popular cameras. But, I can also do other cameras on request.