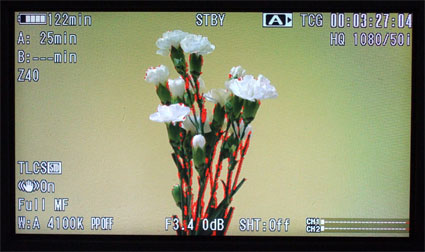 In High Definition focus is very critical, so there are three features to help you ensure focus is correct.
1. PEAKING works by emphasising sharp edges by giving them a little added zing (in the viewfinder and LCD screen only). Peaking clings to sharp edges to emphasise they are in focus.
If you are finding it difficult to see the peaking (the default colour is white) then you can change its colour to red (as in the image on the right) or yellow and the level to high, medium or low.
I recommend you switch the Peaking ON and change it to RED and MEDIUM in the CAMERA SET MENU.
Peaking works in both STBY and REC mode.
In the above picture you can see the red peaking clinging to the edges of the flowers. But, it is not always easy to see on some subjects. Faces don't tend to have many hard edges (unless they are very wrinkled) so you may not see peaking on a face. So....
2. The EXPANDED FOCUS button will zoom the picture in further to help you check focus. This works in both STBY and REC mode.
3. The PUSH AF button switches the camera to Auto Focus while you push it. The best way to make use of it is to zoom in as close as you can to the point of interest (eg your interviewees face). Then push and hold the PUSH AF button until it finds the focus.
Once you see the shot has focused, stop pushing the button and then frame your shot.
This function only works when the focus ring is pushed forward in the infinity mode.